What Is Executive Coaching?
Executive coaching is an offshoot of professional coaching meant specifically for C-suite leaders and the top leadership of organizations. Executives typically take up executive coaching to enhance executive presence, build strategic thinking, broaden their field of vision, develop a global mindset, prepare for new roles, etc.
Executive coaches function as thinking partners, accountability partners, sounding boards, and mirrors.
To know how executive coaching differs from leadership coaching, read our blog – Executive Coaching and Leadership Coaching: Are They the Same or Different?
Executive Coaching Trends to Watch Out For
Is executive coaching your area of interest as an organization, leader, or coach? Here are the top trends transforming the executive coaching arena that you should know.
Trend #1: Increase in demand for executive coaching in response to new challenges
The business environment has become more challenging, requiring highly competent and skilled executives. According to the Conference Board's C-Suite Challenge ™ 2021, global CEOs will make coaching the main focus of their human capital management in the coming years. Subash CV, Master Certified Coach believes that coaching is the future of leadership. Accordingly, the demand for executive coaching in India and worldwide is on an upward trend.
Trend #2: More leaders to benefit from executive coaching
The far-reaching benefits of executive coaching are making organizations hire executive coaches for leadership a rung or two below the C-suite leadership, especially for those in the line of succession. This includes mid-level executives, GMs, directors, and high-potential leaders.
Trend #3: Executive coaching is pivoting to high performers
The myth that coaching is only for leaders who aren't performing well is finally getting busted. More organizations are recognizing the huge windfalls in store when their high performers are exposed to the magic of executive coaching.
So leaders, please note: coaching is no more for laggards – it isn't a sign of weakness anymore. It is now a show of confidence the management has in high performers!
Trend #4: The age bracket of leaders getting coached and executive coaches are reducing
Executives who take up executive coaching are traditionally in the 40-50 age group. But current trends show a lowering in the age bracket. Reason? Leaders are becoming executives earlier. Another reason is that Millennials & Gen Z show more receptivity to executive coaching. So organizations prefer hiring younger executive coaches to ensure resonance & alignment.
Trend #5: New focus areas for executive coaching: CEOs worldwide prioritize making their organizations more adaptable, agile, and flexible to meet the challenges of an uncertain future. The scope of executive coaching is expanding to include these organizational goals. Other additional areas that are going to get further attention in executive coaching are:
Effective change management, especially in M&A – Organizations are recognizing the role of coaching in effecting smooth transitions when two company cultures clash.
Managing up – A Forbes survey revealed that client acquisition is the greatest challenge executives face. Going further, executive coaching will focus on honing good PR skills to attract and retain clients. The same skills would help in interacting with the board executives answer to.
Leading millennials teams – Millennials, the incoming workforce, have motivations and priorities different from their predecessors. Executive coaching can help executives understand and lead millennial teams effectively.
Cultivating leadership presence – Going beyond the superficial trappings of a leader to bring out what is authentic, inspiring, and humane.
Innovation – Innovation is a top priority for CEOs to keep up with constant change and disruption, and will become a major focus area of executive coaching.
Trend #6: Coaching the person as a whole
Organizations provide executive coaching to enhance the performance of their leaders and achieve business goals. While the primary focus has not changed, there is a visible tilt toward coaching the leader as a whole.
An increasingly competitive playing field has elevated stress levels in leaders. Add to this the complexities of human relationships. Enlightened organizations realize that leaders need to develop emotional competencies to manage themselves before they can become effective leaders. Executive coaching can help with both.
Trend #7: Executive coaching more oriented toward enhancing new-age leadership skills
As per the Conference Board's C-Suite Challenge ™ 2021, CEOs believe that leaders with professional competency and high emotional and social IQ are the best equipped to help organizations handle challenges. Organizations increasingly want innovative, empathetic, and compassionate leaders. They value cool-headed and decisive crisis managers who can execute effectively. Employees prefer to work for transparent, authentic, and caring leaders. Executive coaching will be closely aligned with these competencies in the coming years.
Trend #8: Developing in-house coaching facilities and coaching culture
A fast-growing trend is of organizations looking to integrate coaching into their culture. They want to partner with coaching firms to
Identify and train suitable leaders to become internal coaches.

Design and implement in-house coach training programs

Help create in-house coach certification programs
Many businesses are also using executive coaching to develop the coaching style of leadership in their executives. This enables coaching to percolate into the system, making coaching a critical element of culture. A coaching mindset is practised, and not just preached by the authorities!
Trend #9: Increase in demand for certified coaches – The growth of the executive coaching market will inevitably trigger the mushrooming of executive coaches. Industrial bodies will have to eventually bring in policies such as compulsory coach certification to regulate this market. So, as organizations and leaders, it would be prudent to choose executive coaches who have been certified by recognized authorities such as the International Coaching Federation (ICF) and European Mentoring and Coaching Council (EMCC).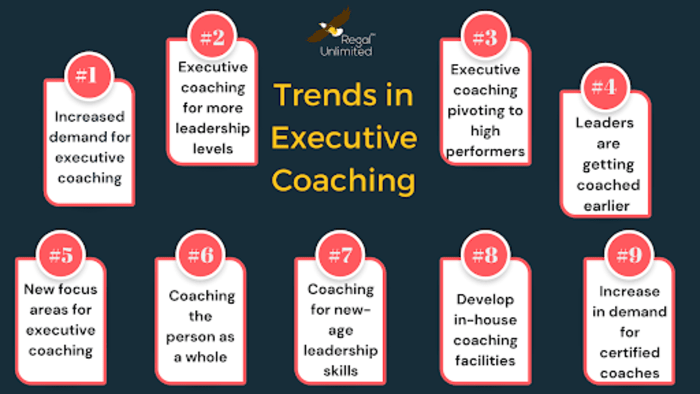 Regal Unlimited – A Trendsetter in Coaching and Coach Training
In the 10 years since our inception, Regal Unlimited has been constantly ahead of the curve in envisioning the future of executive coaching. Our approach, focus areas, and programs are inclined accordingly. Here's a look at how we have been trendsetters in executive coaching.
● In achieving business goals set by organizations, we have always coached the 'person', rather than the 'problem'. This means that we enable leaders to discover strengths/ weaknesses that allow/prevent them from enhancing their professional performance. Leaders can apply this newfound awareness in their profession and personal life, lifelong.
● Regal Unlimited's leadership and executive coaching programs nurture competent, caring, compassionate leaders. We enable leaders to tap into their intellectual, emotional, and spiritual quotients (IQ2EQ2SQ). To know more about IQ2EQ2SQ, read our blog Why Leadership is About IQ, EQ and SQ? #IQ2EQ2SQ
● We are pioneers in promoting the coaching style of leadership and coaching culture in organizations through the Leader As Coach program.
Stay Ahead of the Curve With Regal Unlimited
Is your organization looking to hire a leadership/executive coach? Reach out to us for a FREE discovery session.
Know about Executive Coaching with Regal Unlimited
Would you like to know how Regal Unlimited coaches executives? Click below to find out.