Yes, it is a dream come true, and "all our dreams can come true if we have the courage to pursue them" and our team has consistently demonstrated the courage, grit, and character in making this dream a reality.
It was on 12.12.12 that we decided to set the bird free and become committed to this cause of tapping the unlimited opportunities and potential that lie in each individual (to be regal).
Leaving the plush corridors of the corporate, we chose to pursue our calling… Coaching and Coach Training. Yes, it was a courageous decision but not the difficult one. Helping executives and leaders achieve their maximum potential was the purpose we are passionate about. So, we sailed away from the safe harbor and plunged into crafting this REGAL journey.
The journey has been phenomenal, meeting some amazing comrades and fellow travelers, gathering lessons and learnings from their valuable experiences, touching and impacting the lives of leaders (men and women) across industries and functions. We have nurtured an exclusive community of 200+ REGAL COACHES, have trained and mentored around 1000+ leaders through our uniquely designed program 'Leaders as Coaches' and have been a catalyst to around 50 + corporations in excelling their performance and in furthering business outcomes.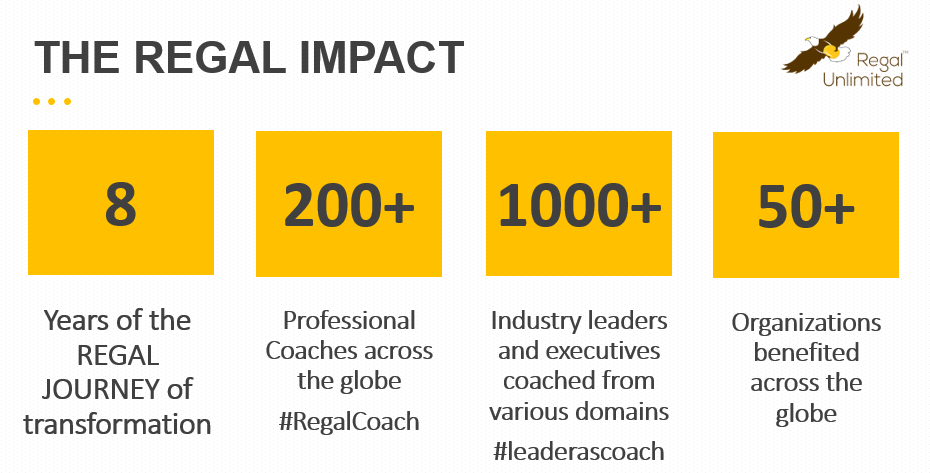 The 8 years of 'REGAL IMPACT' would not have been possible without the constant support and efforts from our small team (read family!!!) We have grown stronger, defying the odds, challenging each other, and supporting all the same. Only a passionate team can make a dream manifest… and this dream for sure owes its success to our team.
We take this opportunity to look back at each of the fellow regal coaches and deeply cherish our conversations and learnings. We express our heartfelt gratitude to all the REGAL COACHES for being supportive in this journey with us.
With humility and reverence, we look back at the 8 years of transformation and have strong faith in the direction we want to go for many more years to come!!!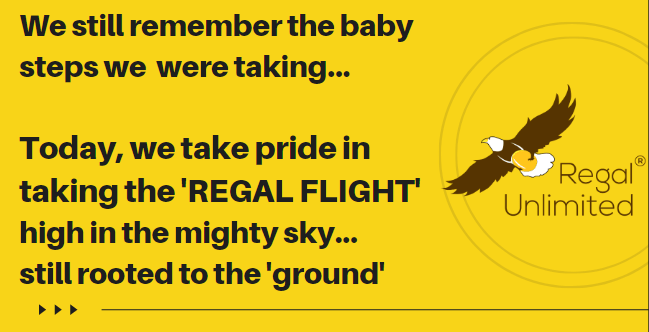 We still remember the baby steps we were taking, today we take pride in taking the REGAL flight, high in the mighty sky, still rooted in the 'ground'