Agile Coaching Institute has carefully crafted the four critical roles that Agile Coaches/Leaders must exhibit in order to deliver excellence. But the questions loom large
Are the Agile Coaches rightfully bearing those four roles? Are they adequately equipped to execute these four roles? Is there a missing piece?
The answer is NO!
The answer is NO, because, of the nature of these four roles.
Facilitating
Mentoring
Teaching
Coaching
On the face of it, these four roles look very similar, require similar skill sets, expertise, and domain knowledge, and seemingly all the four roles have the same objective; to inspire the teams, employees, and peers to deliver high-performance values.
Is it?
On the contrary, on a deeper dive, we find that these four roles ascribed to Agile professionals are very different and operate on different levels of individual and organizational structure.
BLINDSPOTS THAT AGILE PROFESSIONALS FAIL TO RECOGNIZE
Following are some of the mistakes that Agile Coaches/Leaders and Scrum professionals often make:
The default play is that Coaching and consulting are interchangeable. Most of the time when they are coaching – they are assisting in solving complex thinking problems. They become prescriptive, fix the problem, and tell the solutions. Invariably it may have short-lived benefits.
Consulting is not PROFESSIONAL COACHING! It dwells on different sets of competencies, often referred to as the GOLD standard of ICF competencies.
Often Agile coaches in organizations are equipped to train – tell – instruct – lead – cultivate cognitive abilities/frameworks: in essence, they are nurturing empirical thinkers (which no doubt, is necessary and raises the question – is it sufficient for the organization to bring an orbit-shift?)
They are hooked onto the Good and Best Practices that create a rigidity of the PREDICT & PLAN model as coaches. Coaches with good & best practices as explained in the Cynefin model go to the session with pre-determined 'best' questions to ask, a checklist to run through, hearing to react, etc are some telltales (indicators) to prove that Agile Coaches are not delivering professional Coaching.
ICF COACHING FOR AGILE PROFESSIONALS CAN BRIDGE THIS GAP
The missing piece in Agile Coaching is to work in the complexities that are the domain of agility. The ICF Coaching Credential equips the coaches to develop emergent practices that evolve moment to moment, a real indicator of Agility!
Yes, the nuances of professional Coaching are missing – As an Agile Coach when do you think the teams become truly self-organized & truly contribute? It happens when they are COACHED PROFESSIONALLY!!! It happens when they are made AWARE…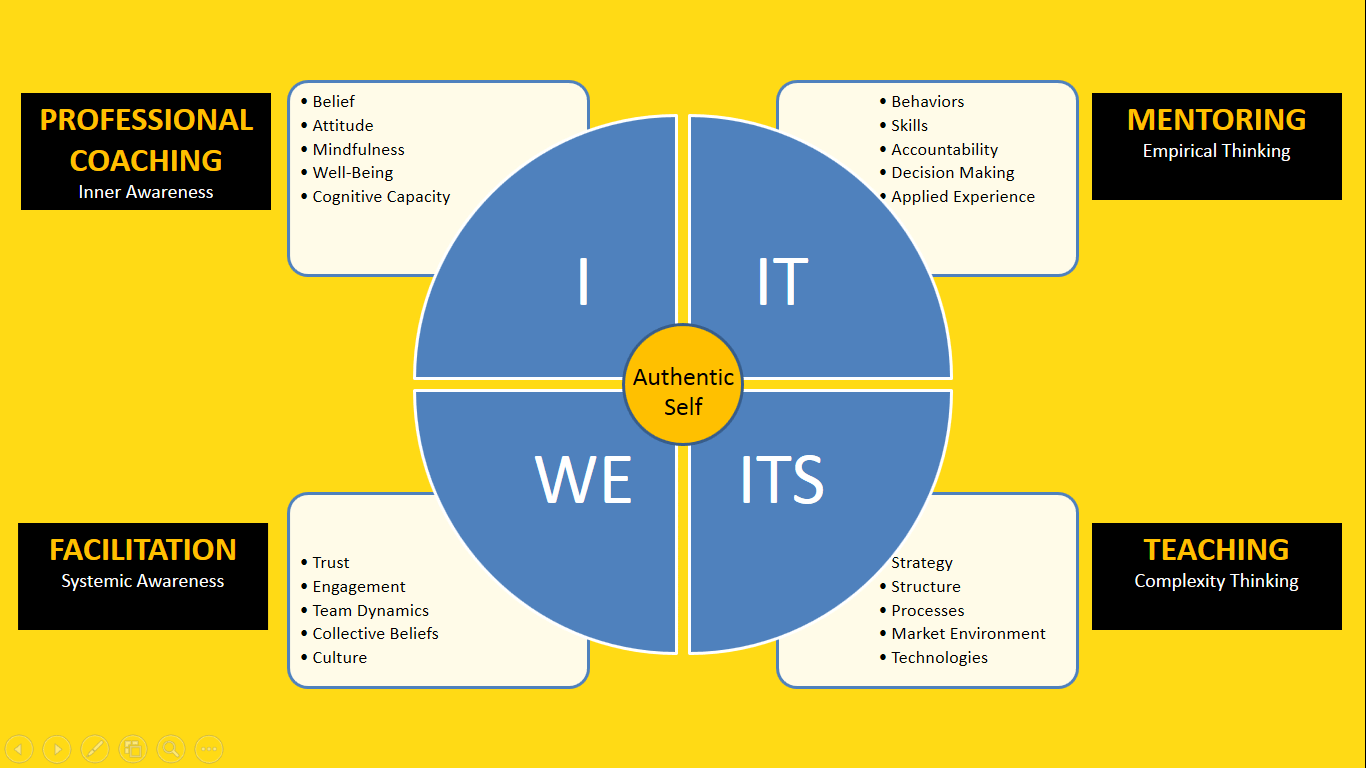 An ICF Coach with Agile will be able to go beyond and incorporate professional coaching in their workplace to high performing zone:
We have experienced that Agile Coaching concludes with cognitive thinking while ICF Coaching competencies bring forth the behavioral aspects and demonstrate a clear shift from cognitive to emotive stance i.e, it evokes awareness of the individual members as mentioned in the image above/below. Professional Coaching shifts the orbit by providing a safe space through trust & safety. This is a big shift, that is because mentoring and consulting are more externally focused, and Professional Coaching by ICF focuses on the "I" – the individual, something that gets ignored in consulting, facilitating, and teaching.
Through the ICF's eight Coaching competencies – An agile coach takes their team members from being an empirical thinker to a self-aware team member who becomes action-oriented. They shift from best and good practices to emergent practices. Their mindset shifts from PLAN & PREDICT APPROACH to a SENSE & RESPOND approach. Instead of rolling out solutions, frameworks, and tools, ICF Coaching enables the Agile leaders to be collaborative and soliciting, holding the space for the team to explore answers, and bring out a deeper level of insights to the table.
Here is a detailed webinar, in which Expert Agile and ICF coaches have delved deeper into how can Agile professionals benefit from ICF Coaching and Certification.
Why Agile coaches should pursue ICF Coaching Credential? – Webinar
ICF Coach Training has become a necessity – it is no more a COMPLEMENTARY SKILL to have. We hosted a panel of Agile Coaches and Experts to enumerate how ICF coaching can benefit Agile/Scrum professionals. Read the blog here.
JOIN THE UPCOMING BATCH TO BECOME A COACH
We have trained and coached over 360 leaders to date and 30% of whom are from the Agile fraternity. Most of this 30% of ICF Coaches are either Agile Trainers, Leaders, Scrum Masters who transitioned to master ICF Professional Coach Training with Regal Unlimited. Agile professionals are reskilling themselves for professional growth and benefiting from ICF Coaching.
Schedule a call with an Agile Coach Mentor to know how can ICF Coaching fit into your Agile career path. To know more about our programs write to info@regalunlimited.com.