Regal Unlimited turned 10 years young on 12th December, 2023. This journey has been inspiring, challenging, humbling and elevating. As I climbed the corporate ladder, little did I know that I would decide to quit my corporate career at its peak and pivot to being a (full-time) entrepreneur.
My willingness, the time, and my Master's command all came together seamlessly in 2011 when I decided to come back to India. The command was "come back," and I did without any backup plan. As I landed in Mumbai, only one thing was certain – me shifting base to Bangalore along with my family. I was not inclined to go back to the corporate rat race either. In those moments of quiet contemplation, inspiration struck me. I decided to go back to campus and educate myself on the latest trends and nuances in the leadership space. INSEAD's Executive Education Program presented itself as the best fit.
The greatest miracles of life remain shrouded in mystery. The plot unfolds perfectly based on the place, time, and circumstances. I was walking towards my purpose. My life's purpose. On that fateful day, I was introduced to the magic of coaching. We had career coaching as part of our INSEAD program where the learners were coached. I found my calling and my life purpose!
I sat there amazed as I observed how the series of coaching conversations proceeded. The questions seemed to unlock insights from the depths of my mind. The conversations helped me become aware and overcome the fear of the pivot to entrepreneurship. An important takeaway for me was that I had been an entrepreneur in my leadership roles too!
I knew at that moment that coaching was my calling. After spending 21 years in leadership roles with leading BFSI players, it was obvious to me that the rest of my career should be all about impacting lives. The first step in that direction was the incorporation of our business. 
Regal Unlimited GA LLP was born on 12th December 2012 (12/12/12) with my wife and me as the founding partners. Regal Unlimited had a very low-key launch with minimum pomp and fanfare. Just a Facebook update! No website, no Instagram and Twitter handles.
From there to having trained and mentored over 300 ICF Coaches, a lot has changed. From ACC to PCC, I moved from coaching the problem to coaching the person. From PCC to MCC, with a slip or two in between, I am on the journey from interacting as a coach to 'Being' a coach. Being a coach entails achieving mastery at all levels, and the journey is still on. Taking the ICF markers beyond the coaching conversation into the day-to-day interactions. The competencies have so much to offer in one's life if one is ready to play with them! After over 5,000 hours of coaching, I can guarantee that interpersonal relationships, headspace, and work move from transactional to transformational levels.
What have we achieved in the last decade?
Our impact can be categorised into the 4Cs- Coach Training, Coaching, Community, and Contribution.
Regal Unlimited has become synonymous with the quality and reliability of ICF Coach Training. Our premium pricing reflects our confidence in our delivery and the experience we give our learners. 
Our industry-leading success rate is the envy of most coach training institutions. Out of 50,000 ICF Coaches worldwide, over 300 have been trained and mentored by Regal Unlimited.
There is a lot of misinformation about pure and classical coaching. Regal Unlimited is taking strides in changing that. Delivering the RoI of coaching is our commitment. Having clocked over 30,000 hours, we can see the impact we make in the lives of our clients. Our clients are complete. We just need to be present as the coach. That is where the magic happens. The process is sacrosanct. Please listen to our podcast on Spotify where you can learn all about coaching. That is our podcast title too!
We believe in collaboration and not classical competition. Our effort to nurture the 300+ Regal Coaches Community is a testimony to that endeavour. We are committed to nurturing relationships beyond certification and credentialing. 
Some of our initiatives towards that end include Regal MuseArt, Coach Accelerator, and Coaching Unlimited. Our loyalty program also continues to add immense value to building the community.
Our Regal Coaches Consortium is a one-of-a-kind endeavour that seeks to multiply coaching business by generating revenue through lead generation and coaching offerings at multiple price points. Yes, we are becoming synonymous with ICF Coaching and Coach Training in this part of the world. 
Coaching is about impacting lives. Corporate Social Responsibility is an important part of our business. To give back to society, we have partnered with two organisations- E1E1 and Annapoorna Trust.
Each One Educate One (E1E1) Foundation provides education to underprivileged children in rural India free of cost. Regal Unlimited sponsors the education of a few students every year.
Annapoorna Trust serves delicious hot breakfasts to 1 million children daily across the country. We partner with the trust to support them financially and volunteer participation.
Sameepyam is our in-house CSR initiative. Anjana, my wife, and partner at Regal Unlimited offers value-based education to young children who are at a very impressionable age. Education without human value is a disaster. "End of Education is Character."
We believe in impacting lives. Our CSR initiatives further our vision to transform people.
We have created a short video that captures our journey over the past decade-
On 12th December 2022, we celebrated a decade of excellence in coaching, coach training, and leadership development. It was an invite-only online event  and the participants included our colleagues, alumni, learner coaches, prospects, and workflow partners.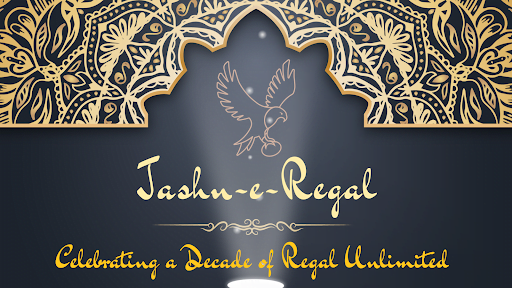 Regal Unlimited's logo is the Brahmani Kite. Our previous logo successfully conveyed Regal Unlimited's brand values to the larger audience for the last decade. It is time for a change!
Our logo has undergone a metamorphosis. From soaring high, it is time to scale greater heights. The new logo shows the wings all poised for our takeoff. The logo reflects simplicity and elegance! The golden egg firmly in our grip shows our commitment and dedication to nurturing the best coaching community the world has seen. The golden egg is our community. 
The new logo represents our decade of excellence in coaching, coach training, and leadership development. We have arrived, and we are grateful. But we are inspired and hungry for more.
Story of Regal Unlimited- A Video
Regal Unlimited's growth has been fuelled by multiple stakeholders. Everyone has a story to tell. Every business has a story to tell. Regal Unlimited is no exception. Stories stir. Stories move. Stories connect. 
As we step into the next decade, I invite you to watch our story-
Regal Reflective Playbook Launch
Journalling is a process of self-improvement and manifestation that many successful leaders swear by. A major impediment to journaling is not having that 'one' format. On our 10th anniversary, we are proud to present to you the Regal Reflective Playbook, which aims to reduce the resistance in your journaling.
The playbook is divided into two sections- a journal and a planner. In a very creative and engaging way, you can script your success story, personally and professionally!
Felicitation of the Regal Mentor Coaches
In nurturing the community of the best coaches on the planet, the mentors and trainers play an equally important role. Almost all of our mentors are our alumni. They have made immense contributions to upholding and elevating the benchmark in the  coach training industry. After the playbook launch, we felicitated our valued Regal mentors.
Celebration Through Contribution- A Video
We believe coaching is about impacting lives. As stated previously, we believe in actively giving back to the community. We inaugurated our 10th Anniversary celebrations by participating in the Annapoorna breakfast service across three cities in India- Bangalore, Hyderabad, and Chennai. We served 716 children on the morning of 12th December 2022. 
Regal Unlimited contributed financially. Members of the Regal Family also travelled to the breakfast centres to serve the breakfast personally. This entailed around an hour's travel in the wee hours of the morning as the service is centred around rural areas. The volunteers braved the cyclone and the rain and served with a smile.
I would like to share with you a video of our service initiative- Celebration Through Contribution
Many of the attendees shared their views about Regal Unlimited What makes us unique and what their vision is for the next decade. Let me share a few lines with you on Regal 2.0
We are the gold standard in ICF Coaching and Coach Training in India. Regal 2.0 will take our learnings and experience to the rest of the world. In the next ten years, we will continue to build the community of the best ICF coaches and raise the bar in our coach training programs which further distance us from the competition.
We have arrived. We are inspired. We are hungry for more.
We are also blessed to be featured in print media. Let the articles do the talking 🙂
Sharing with you the link to The Business Today feature- Press Release