Dear leader,
Greetings from Regal Unlimited. Hope you are doing well. Trust you are taking all the precautions to stay safe. While we handle the challenges arising out of the pandemic in our own way, many of us are using the time to gain wellness, more family time, balance WFH/Stay@Home, pick up old hobbies (music, for example), and of course, learn and re-learn too.
More aspiring coaches, corporate leaders and professionals are learning to coach the ICF way.
In some cases to add coaching skills to their work and life, and in some other cases
To Become a Coach, now or in the near future
Learning is one of the key outcomes of any coaching engagement. We are externally focussed, this journey helps us go within…
What are the 3 important elements of your coaching journey?
In our coach-training programs, all 3 are important.
Journey within, self-awareness
Destination, ICFcredential/RCC certification
The community of coaches, within the batch and the alumni community (#RegalCoaches). We take effort to nurture the community (over 200), and also ensure the batches are heterogeneous.
ICF is the gold standard in coaching. Over the last 5 plus years, we have trained over 200 aspiring coaches and created one of the best coaching community in this part of the world. Also over 1,000 leaders through leadership coaching workshops.
Virtual/live program, on Mondays 6 PM to 9 PM, over the zoom. Occasional connect in your cities when the situation improves.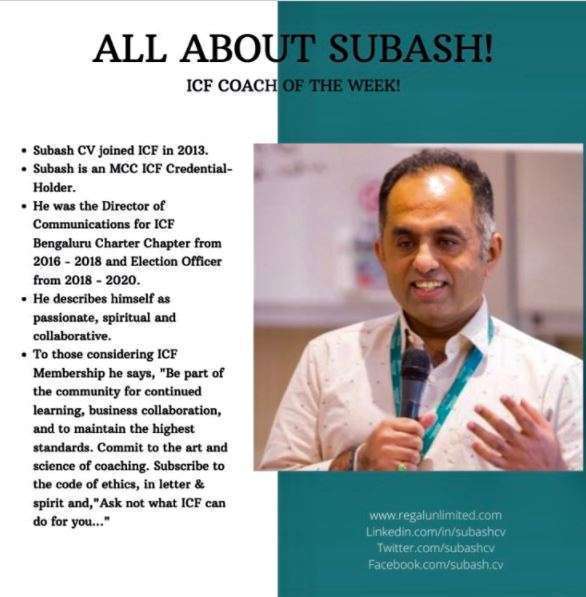 To those whom much is given, much is expected'. That is what this nomination means to me. Grateful.
Stay safe and stay blessed.
Team – Regal Unlimited
ROI of Enchantment